Graduate School / Careers
The career paths of graduates of the School of Engineering are divided into two categories: those who go on to graduate school and those who find employment in general companies, government offices, junior high schools, high schools, and so on.
About 85% of all undergraduate graduates go on to graduate school (master's course).
Those who go on to graduate school (doctoral course) account for about 15% of all graduates of the master's course.
The School of Engineering receives employment offers from up to 2,000 companies every year, and approximately 97% of the graduates of the Master's Course who wish to work in the School of Engineering find employment.
Graduate School
The graduate school entrance examination is held at the end of August. At this time, students may choose whatever field they would like to major in. However the students must have acquired the necessary basic specialized academic skills to enter that field. In order to open the doors to a broader range of students, many major fields utilize a variety of test sections and allow the students to select the ones to answer. Some major fields also use a system of recommended admission for students with outstanding academic records. For particularly outstanding undergraduates, a system of "skipping a grade" and "early graduation in the third year (only for the Division of Electronics and Information Engineering)" is available, which allows students to enter graduate school after completing the third year.
The years required to complete a graduate school course are two years for the Master's course and three years for the Doctoral course. However there are ways to complete the Master's course in one year and the Doctoral course in two years, or to complete the Master's course in two years and the Doctoral course in one year or more, allowing exceptional students a way to extend their abilities without waiting. By taking the school's shortest course, it is possible to obtain a Doctoral degree at the age of 24.
Students who enter graduate school learn more advanced specialized knowledge and engage in active creative research activities. Many of our graduate students are active in presenting their research at international conferences overseas and participating in academic meetings.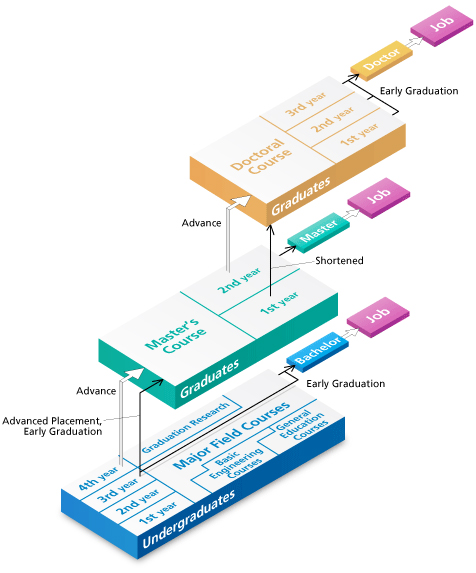 Careers
The graphs below show the career paths of Master's degree graduates for the past three years.
Applied Science
Mechanical,Materials and
Manufacturing Science
Electronic and
Information Engineering
Sustainable Energy and
Environmental Engineering
Global Architecture
As of April 1, 2023(Last 3 year employment record)

●Primary Company Names

(employment results from past three years, alphabetic order)

Accenture Japan Ltd
AGC Inc.
Ajinomoto Co., Inc.
ASAHI BREWERIES, LTD.
Astellas Pharma Inc.

DAIKIN INDUSTRIES, LTD.
DENSO CORPORATION
DISCO Inc.
DKS Co. Ltd.

Kao Corporation
KEYENCE CORPORATION
Kirin Holdings Company, Limited
KURARAY CO., LTD.

Marubeni Corporation
Mitsubishi Chemical Corporation
Mitsubishi Electric Corporation
Mitsui Chemicals, Inc.
Murata Manufacturing Co., Ltd.

NIPPON SHOKUBAI CO., LTD.
NIPPON STEEL CORPORATION
NTT DOCOMO, INC.

ONO PHARMACEUTICAL CO., LTD.
Otsuka Pharmaceutical Co., Ltd.

Shiseido Company, Limited
Sony Corporation
Sumitomo Electric Industries, Ltd.
Sunstar Group
SYSMEX CORPORATION

Takeda Pharmaceutical Company Limited
TEIJIN LIMITED
The P&G Japan Limited
Toppan Inc.
TORAY INDUSTRIES, INC.
TOTO LTD.
TOYOTA MOTOR CORPORATION

As of April 1, 2023(Last 3 year employment record)

●Primary Company Names

(employment results from past three years, alphabetic order)

Chubu Electric Power Co.,Inc.

DAIHATSU MOTOR CO., LTD.
DAIHEN Corporation
DAIKIN INDUSTRIES, LTD.
DENSO CORPORATION

FANUC CORPORATION
FUJITSU LIMITED

Hitachi, Ltd.
Honda Motor Co., Ltd.

ISHIDA CO.,LTD. 
ISUZU MOTORS LIMITED

JFE Steel Corporation
JTEKT CORPORATION

Kawasaki Heavy Industries, Ltd.
KEYENCE CORPORATION
Kobe Steel, Ltd.
Komatsu Ltd.
KUBOTA Corporation
KYOCERA Corporation

Mazda Motor Corporation
Micron Memory Japan, K.K
Mitsubishi Electric Corporation
Mitsubishi Heavy Industries, Ltd.

NIPPON STEEL CORPORATION
Nomura Research Institute, Ltd.

Sanyo Special Steel Co., Ltd.
Sharp Corporation
SHIMANO INC.
Sumitomo Electric Industries, Ltd.

The Kansai Electric Power Company,Incorporated
TOKYO GAS CO.,LTD.
TOYOTA INDUSTRIES CORPORATION
TOYOTA MOTOR CORPORATION

West Japan Railway Company

Yamaha Motor Co., Ltd.
Yanmar Holdings Co., Ltd.

As of April 1, 2023(Last 3 year employment record)

●Primary Company Names

(employment results from past three years, alphabetic order)

DAIHEN Corporation
DAIKIN INDUSTRIES, LTD.
DENSO CORPORATION

Hitachi, Ltd.
Honda Motor Co., Ltd.

Kawasaki Heavy Industries, Ltd.
KDDI CORPORATION
KEYENCE CORPORATION
KUBOTA Corporation
KYOCERA Corporation

Micron Memory Japan, K.K
Ministry of Defense
Mitsubishi Electric Corporation
Murata Manufacturing Co., Ltd.

NIPPON STEEL CORPORATION
NIPPON TELEGRAPH AND TELEPHONE WEST CORPORATION
Nomura Research Institute, Ltd.
NTT Communications Corporation
NTT COMWARE Corporation
NTT DATA CORPORATION
NTT DOCOMO, INC

Olympus Corporation
OMRON Corporation

Sharp Corporation
SHIMADZU CORPORATION
Sony Corporation
Sumitomo Electric Industries, Ltd.
Sumitomo Mitsui Banking Corporation

The Kansai Electric Power Company,Incorporated
Tokyo Electric Power Company Holdings, Inc.
TOYOTA MOTOR CORPORATION

West Japan Railway Company

YANMAR FLYING-Y BUILDING
Yokogawa Electric Corporation

As of April 1, 2023(Last 3 year employment record)

●Primary Company Names

(employment results from past three years, alphabetic order)

Central Japan Railway Company(JR Central)
Chubu Electric Power Co.,Inc.

Japan Atomic Energy Agency
JGC HOLDINGS CORPORATION

KAJIMA CORPORATION
Kobe Steel, Ltd.
Kobelco Eco-Solutions Co.,Ltd.
KUBOTA Corporation
Kyushu Electric Power Company,Incorporated

Mazda Motor Corporation
Ministry of the Environment
Mitsubishi Electric Corporation
Mitsubishi Heavy Industries, Ltd.
Murata Manufacturing Co., Ltd.

NIPPON STEEL CORPORATION
Nomura Research Institute, Ltd.
NTT DATA CORPORATION
NTT DOCOMO, INC
NTT FACILITIES, INC.
NUCLEAR ENGINEERING,Ltd
Nuclear Fuel Industries, Ltd

OBAYASHI CORPORATION
Osaka City
OSAKA GAS CO.,LTD
Osaka Prefecture

Shikoku Electric Power Company, Incorporated
SHIMIZU CORPORATION
Sony Corporation

TAISEI CORPORATION
TAKENAKA CORPORATION
The Kansai Electric Power Company,Incorporated
The Nuclear Regulation Authority
Tokyo Electric Power Company Holdings, Inc.
TOYOTA MOTOR CORPORATION

West Japan Railway Company

As of April 1, 2023(Last 3 year employment record)

●Primary Company Names

(employment results from past three years, alphabetic order)

Central Japan Railway Company(JR Central)
Central Nippon Expressway Company Limited
CHUO FUKKEN CONSULTANTS CO.,LTD.

DAIWA HOUSE INDUSTRY CO., LTD.

East Japan Railway Company

Hankyu Hanshin Holdings, Inc.
Hanshin Expressway Company Limited
Hitachi Zosen Corporation
Honda Motor Co., Ltd.

IMABARI SHIPBUILDING CO., LTD.

JFE Engineering Corporation

KAJIMA CORPORATION
KANSAI DESIGN COMPANY,LTD
Kawasaki Heavy Industries, Ltd.
Kobe Steel, Ltd.
Komatsu Ltd.
KUBOTA Corporation

Ministry of Land, Infrastructure, Transport and Tourism
Mitsubishi Jisho Sekkei Inc.
Mitsui O.S.K. Lines, Ltd.
MODEC, Inc.

NIHON SEKKEI, INC.
Nikken Sekkei Ltd
NIPPON KAIJI KYOKAI
Nippon Koei Co., Ltd.
NIPPON STEEL CORPORATION
Nissan Motor Co., Ltd.

OBAYASHI CORPORATION
Osaka Prefecture

Shikoku Electric Power Company, Incorporated
SHIMIZU CORPORATION
SUMITOMO HEAVY INDUSTRIES MARINE & ENGINEERING Co., Ltd.

TAISEI CORPORATION
TAKENAKA CORPORATION
The Kansai Electric Power Company,Incorporated
TOHATA ARCHITECTS & ENGINEERS, INC.
Tokyo Electric Power Company Holdings, Inc.

West Japan Railway Company
West Nippon Expressway Company Limited