Publications・Video・Gallery・Historical Museum
Publicity/Publications
Contains information about the School/ Graduate School of Engineering as well as a variety of statistical information. (PDF) 18.9 MB

This pamphlet introduces Osaka University for mainly foreign researchers. (PDF) 33.5 MB
School/Graduate School of Engineering Gallery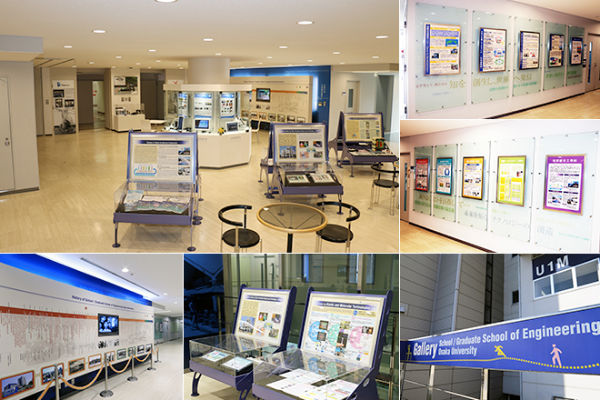 This facility introduces the history of the School of Engineering and Graduate School of Engineering as well as the latest research materials.
The purpose of the gallery is to demonstrate the appeal of engineering to a broad audience and to promote interest in science and technology. For this purpose, it uses wall panels that show the history of the schools; explanatory panels that describe the current research, educational activities, and cutting-edge research results; and case displays showing prototypes, research samples, and other items of interest.
Please visit anytime on weekdays from 9:00 to 17:00.
Location:
1F Lobby, GSE Common West (U1W),
School/Graduate School of Engineering, Osaka University
2-1 Yamadaoka, Suita, Osaka 565-0871 Japan
Historical Museum
Device
Osaka University
Vacuum Tube Computer

Vacuum Tube
Analog Computer(Made by NEC)

The First Japanese
Electron Microscope
(Reformed Mark-I)

The Third Japanese
Electron Microscope

Ampere Balance
(Kelvin Type)(Made in UK)

Oscillograph(Made by the company that is now Yokogawa Electronic Corporation)

Milliampere meter / Voltmeter / Ammeter / Power-factor meter (The power-factor meter was made in the USA.)

EVLIS Machine
Photo
c. 1896
Osaka Technology School
(Facing the Main Hall),
Tamae-bashi South End

c. 1901
Chemistry Laboratory at Osaka Technological Higher School

c. 1901
School Gate of Osaka
Technological Higher School

c. 1901
Launching Ceremony at the Department of Shipbuilding,
Osaka Technological Higher School

1915
Scene from the Founding Anniversary at Osaka
Technological Higher School

c. 1929
Front of the Old Osaka Technological College

c. 1931
Tsuboi Memorial Hall

1932
Outline of the Old Osaka Technological College

c. 1933
Main Gate of the Osaka Imperial University School of Engineering (Higashinoda Campus)

c. 1936
School of Engineering Higashinoda Campus Main Building

c. 1936
School of Engineering Higashinoda Campus Main Building

c. 1939
Electron Microscope (Mark-I) Developed by the School of Engineering

1940
The Largest Wind Tunnel Laboratory in Japan at that Time (Disaster Science Laboratory)

1944
Higashinoda Campus under Bombing by B29 (Source: The Mainichi Newspapers)

1946
Main Gate at the School of Engineering Hirakata Campus

1946
Hirakata Campus

c. 1965
Aerial Photograph of the Osaka University School of Engineering Higashinoda Campus

c. 1965
The Second Experimental Tanks (Higashinoda Campus)

c. 1968
Suita Campus under Construction

1970
Overall View of the Osaka University Suita Area

1995
Aerial Photograph of the Suita Area